I will be reviewing  the "Joomla! 1.5 Templates Cookbook" by Richard Carter, published by Packt Publishing. This book is about modifying Joomla! 1.5 Templates.
Packt Publishing asked me to review this book since it's in my line of expertise.
A little about me:
I am Ramon "Ramoonus" van Belzen. A 22 year old web designer (HTML, CSS, microformats, JavaScript, AJAX, jQuery, PHP/MySQL) and hobby programmer (Visual Basic). I've been creating webpages since 1997.
I've been playing with Joomla! for more than three years now. I currently own no sites which run on Joomla! but I don't see a reason why I shouldn't be using it for one of my sites.
You can find my website on http://www.ramoonus.nl
The Joomla! 1.5 Templates Cookbook is one of Packt Publishing's cookbook series meaning it contains loads of recipes. Each recipe is a small articles/paragraphs with an idea and how to work it out. Just like a regular cookbook.
As the title reveals this book is about Joomla! 1.5 templates. A template is the design which displays the Joomla! site. Without a template no content is displayed, you will only see blank pages.
This book can also be used for the future Joomla! 1.6, which is currently in beta status.
In the near future (next week) I will be reviewing "Joomla! 1.5 Templates Cookbook" by Packt Publishing.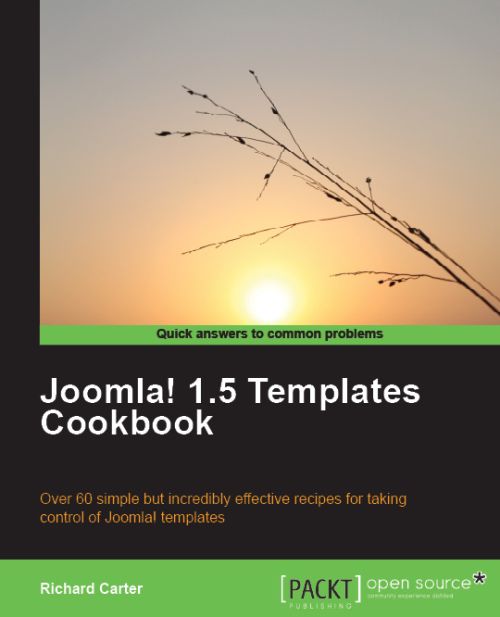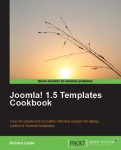 The book teaches the reader how to modify and adapt Joomla! 1.5 templates to their wishes and optimise a template.
The book consists of a series of self-contained step-by-step recipes that cover everything from common tasks such as changing your site's logo or favicon and altering color schemes, to custom error pages and template overrides.
The book is written for webdesigners and Joomla! users with experience in (X)HTML and CSS.
What you will learn from this book :
Get to grips with the basics of template design for Joomla! such as changing the logo and altering color schemes for your templates
Understand Joomla! concepts such as module chrome and template positions
Add a multilingual aspect to your website to cater to a larger audience
Create custom error templates and generate revenue by displaying advertisements on your website
Style Joomla!'s search results and customize Joomla!'s breadcrumb trail
Create attractive and functional print styles for your website to make your content printer-friendly
Customize the look and feel of your Joomla! website's administration panel to match either your business or client identity
Create social bookmarks, embed videos, and add a shoutbox to your Joomla! website to make it more user-friendly
Integrate Joomla! with social media such as Twitter and YouTube
Create and specify mobile stylesheets for you Joomla! website to style your Joomla! website more effectively for mobile users
Use JavaScript to enhance your Joomla! templates
A wide range of miscellaneous tips, tricks, and tasks to help get your Joomla! website one step closer to perfection
This book should be available in your local book store at this time.