Next week (8 august 2011) Apress will publish the book The Definitive Guide to Drupal 7 (ISBN13: 978-1-4302-3135-6 ). The book will be 1112 pages phat and will be available as printed and e-book (in  the following formats: EPUB, MOBI, PDF).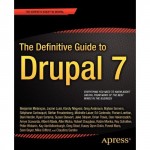 Apress has given me the opportunity to review this Drupal 7 book. I expect the review to appear later this month on my blog.
The Definitive Guide to Drupal 7 is the most comprehensive book for getting sites done using the powerful and extensible Drupal content management system. Written by a panel of expert authors, the book covers every aspect of Drupal, from planning a successful project all the way up to making a living from designing Drupal sites and to contributing to the Drupal community yourself. With this book you will:

Follow practical approaches to solving many online communication needs with Drupal with real examples.
Learn how to keep learning about Drupal: administration, development, theming, design, and architecture.
Go beyond the code to engage with the Drupal community as a contributing member and to do Drupal sustainably as a business.

What you'll learn

Launch a community-ready site in fifteen minutes.
Talk to stakeholders and architect a site's structure and functionality around the goals it must achieve to successfully launch major enterprise sites.
Find, evaluate, and configure modules to extend Drupal's functionality.
Theme inspired designs into functional, future-proof templates.
Build modules when you need to extend what Drupal can do beyond the thousands of solutions already coded by others.
Work with Drupal sustainably as a professional and as a participant in the Drupal community.

Who this book is for

Anyone who has heard of Drupal and has a personal or professional reason to learn more: from Drupal administrators, themers, and developers to moonlighters and intense hobbyists. People considering a solo or collaborative career making websites will find this book their complete stop for Drupal.
More information about this book can be found on Apress book site, www.apress.com/9781430231356.